Aquatica leii
雷氏螢 Lei's Swamp Flasher
---
形態特徵:雄螢
體長6.7-7.5毫米,複眼巨大,鞘翅邊緣有黃色緣邊;發光器差不多完全佔據第六腹板和第七腹板的前半部,鞘翅比黄緣水螢淺色。雌螢外貌似雄螢,但複眼較鈿小、只有一個發光器,佔據第六腹板。幼蟲腹節1-8各有一對分叉的鰓,背板黑褐色,不規則地密佈黃色小點,背板後緣各有四個大黃點,發光器位於第8腹板兩側,圓點形。
---
分佈地點:
大埔滘、鳳園、沙螺洞、水盞田、蕉坑、林村谷、黃魚灘。
---
成蟲活躍月份:
4-9月
---
其他資料:
幼蟲水生,在緩流、淺水、軟柔基質的水底生活,捕食水生螺;在水邊濕泥挖穴化蛹,或鑽到石塊底下的濕泥化蛹。交配後雌螢在近水面植物的莖或根上產卵。
---
Morphological features
:
Male body length 6.7-7.5 mm, compound eyes very large, elytra rims yellowish ; light organs almost completely occupy ventrite 6 and anterior half of ventrite 7; colour of elytra lighter than that of Aquatica ficta. Female resembles male, except generally large than male, and only one light organ occupying ventrite 6. Tergites of larvae black, with dense and irregularly distributed small yellow spots, and 4 large yellow marks along the posterior margin of each tergite. There is a pair of branched gills protruded from each abdominal segments. A pair of ight organs located at the lateral sides of ventrite 8, rounded.
---
Distribution
:
Tai Po Kau, Fung Yuen, Sha Lo Tung, Shui Tsan Tin, Tsiu Hang, Lam Tsuen Valley, Wong Yue Tan.
---
Adult flight period
:
April to September.

---
Other information
:
Larva aquatic, live in slowly running, shallow water with soft bottom, feed on aquatic snails; mature larvae climb up to the wet soil and make hole for pupation, or pupate in wet soil covered by rocks. After mating, female lays eggs onto the aquatic plants' roots or stems near the water surface.
---
雄
Male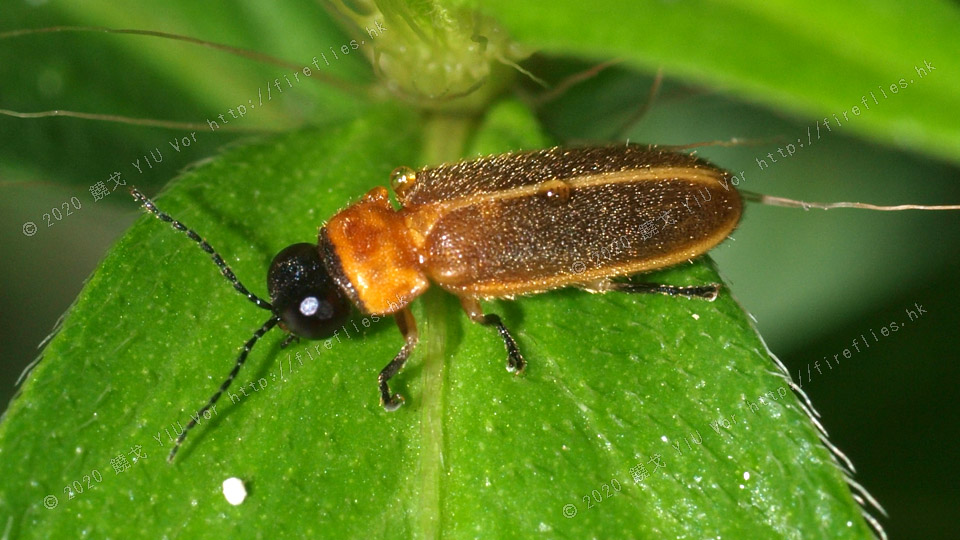 ---
雌
Female
---
幼蟲
Larva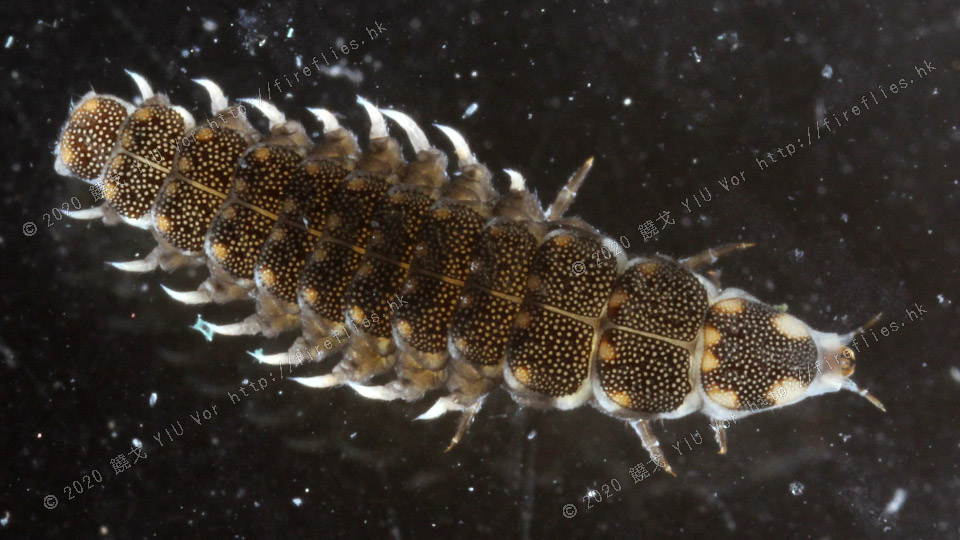 ---
雄
Male
---
雄
Male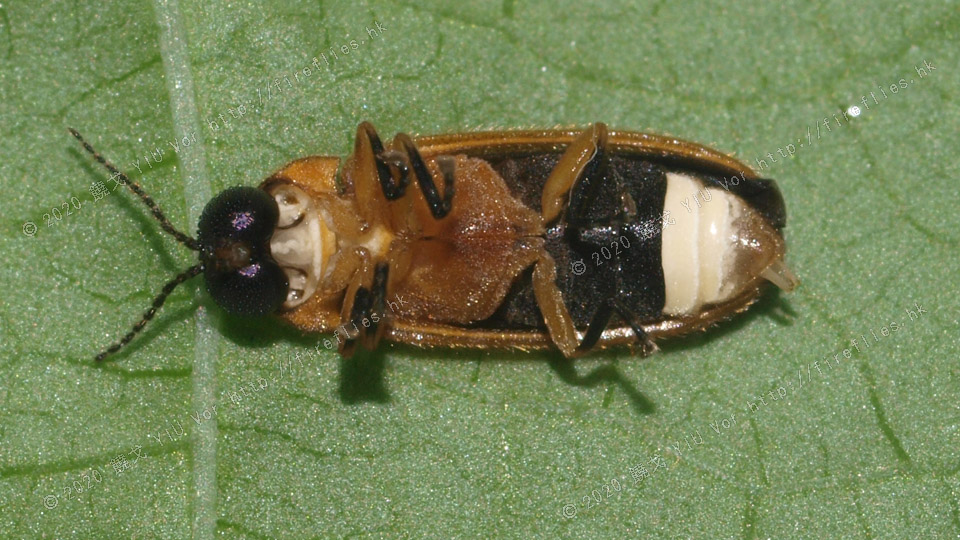 ---
雄
Male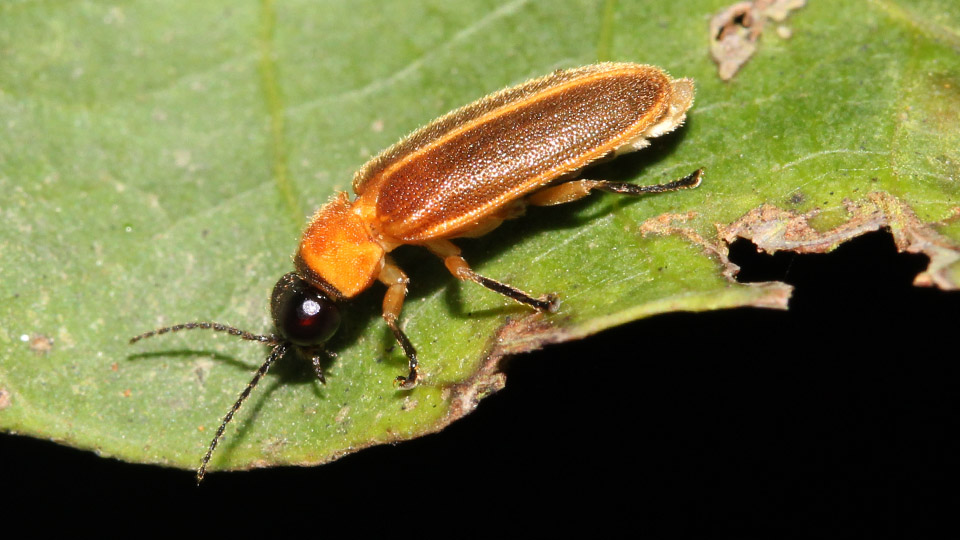 ---
雄
Male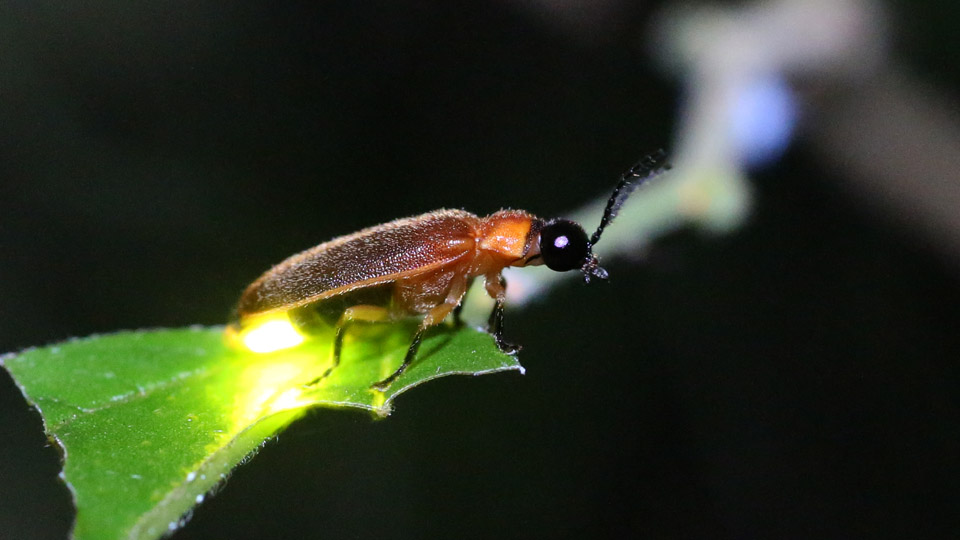 ---
雄
Male
(下 below)
雌 Female (上 above)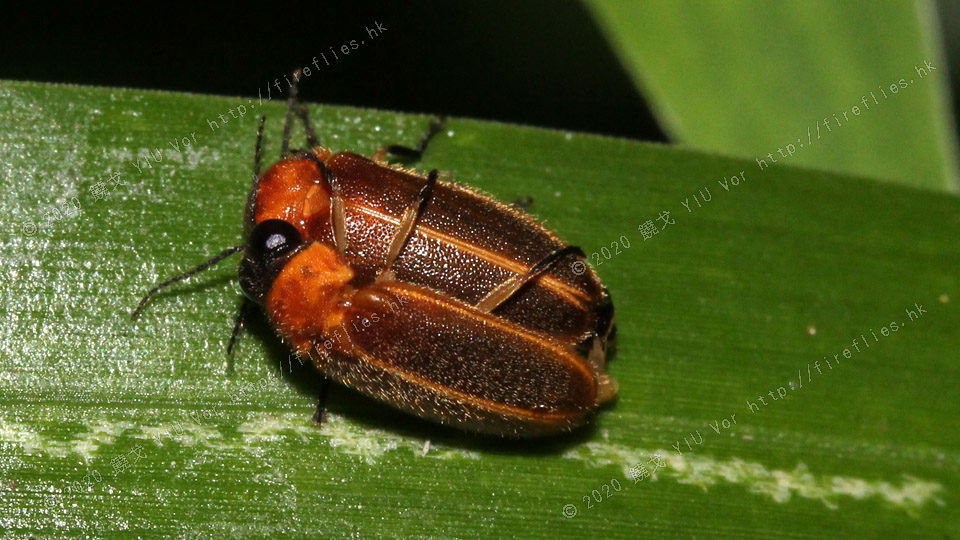 ---
雌 Female (左 left) 雄
Male
(右 right)
---
雌 Female (左 left) 雄
Male
(右 right)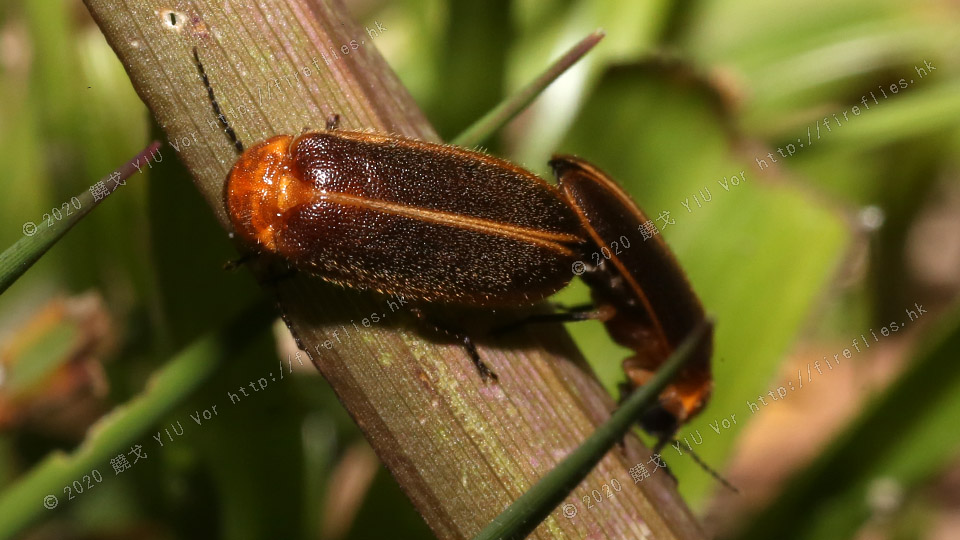 ---
雌
Female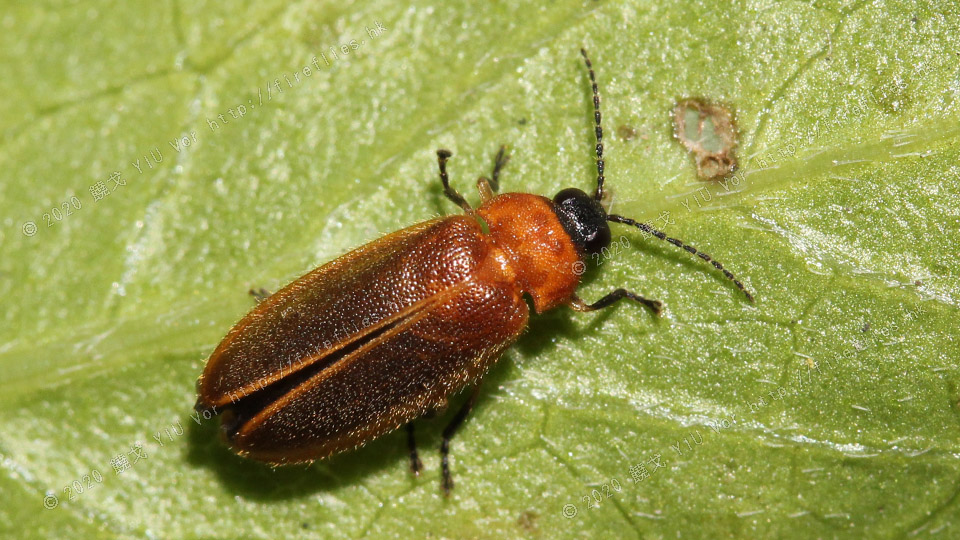 ---
雌
Female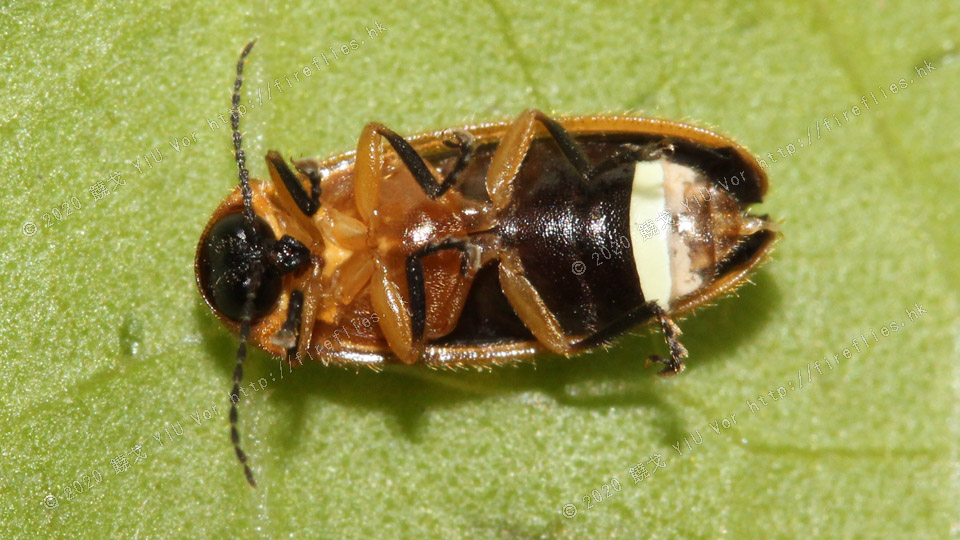 ---
卵
Eggs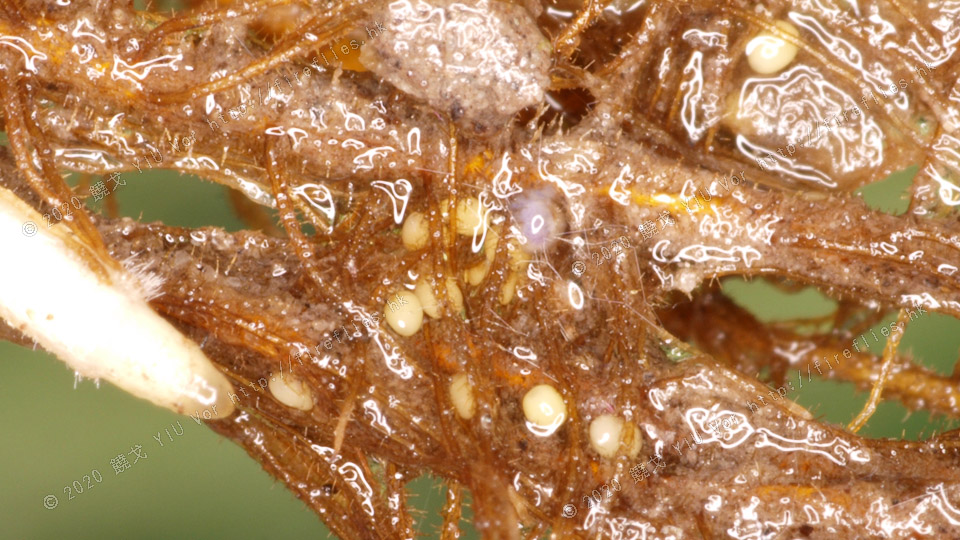 ---
卵
Eggs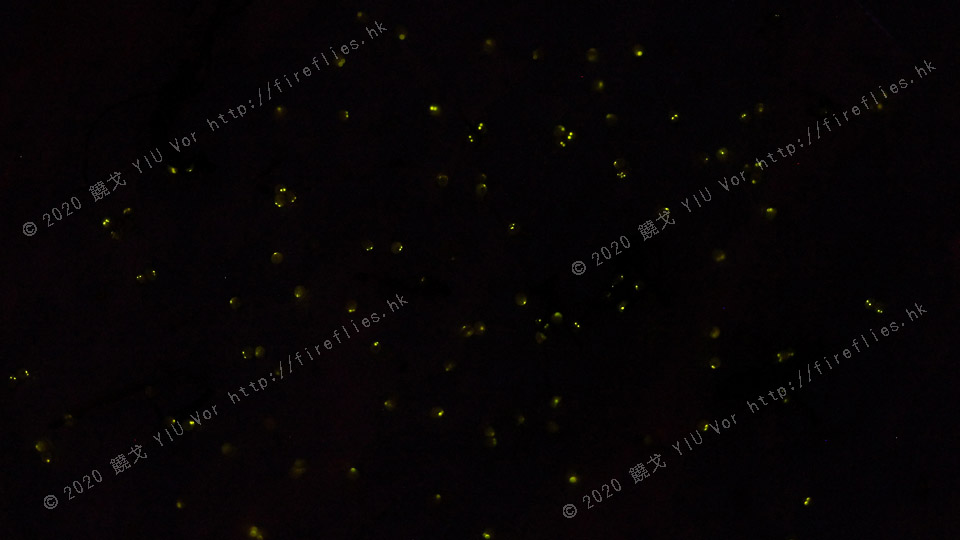 ---
年幼幼蟲捕食螺
Young larvae predating s snail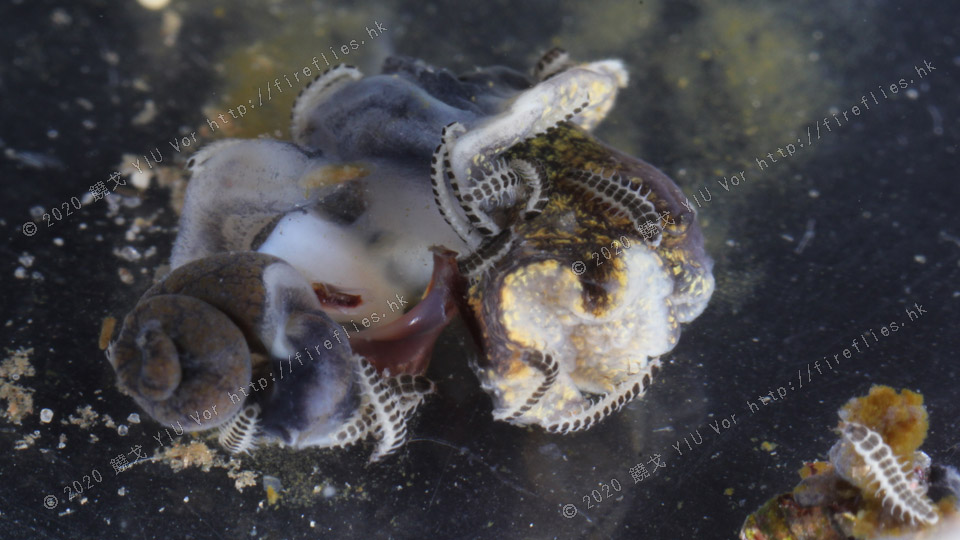 ---
幼蟲捕食螺
Larvae predating s snail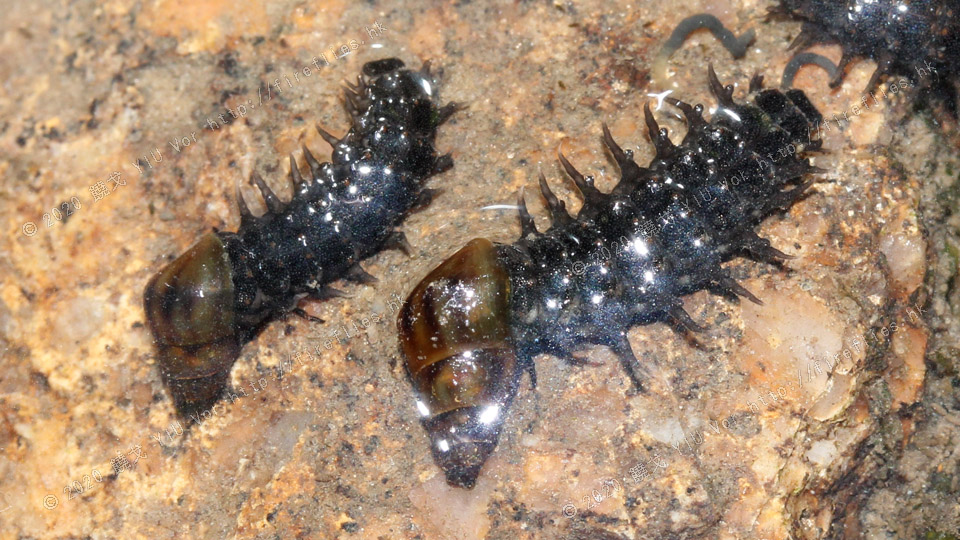 ---
幼蟲在水底發光
A larva glow underwater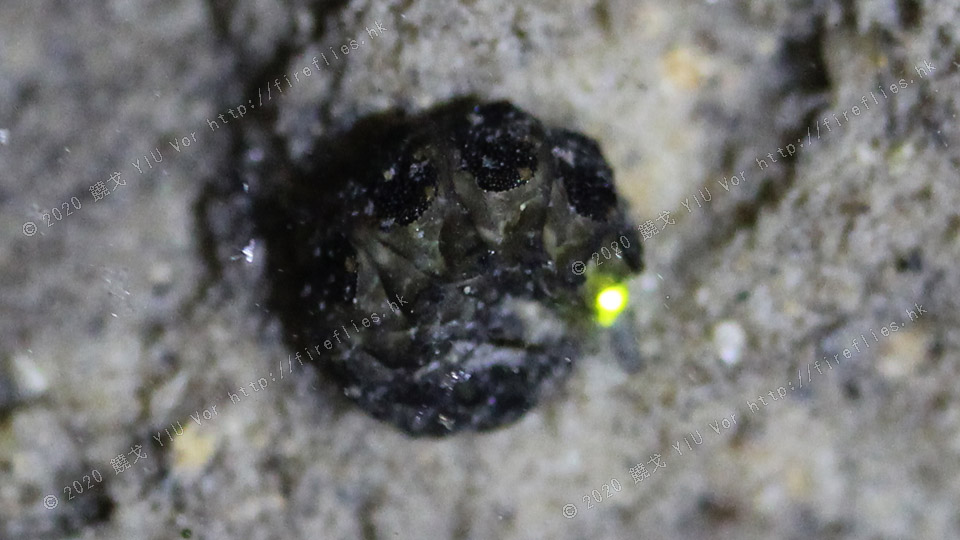 ---
成熟幼蟲
Mature larva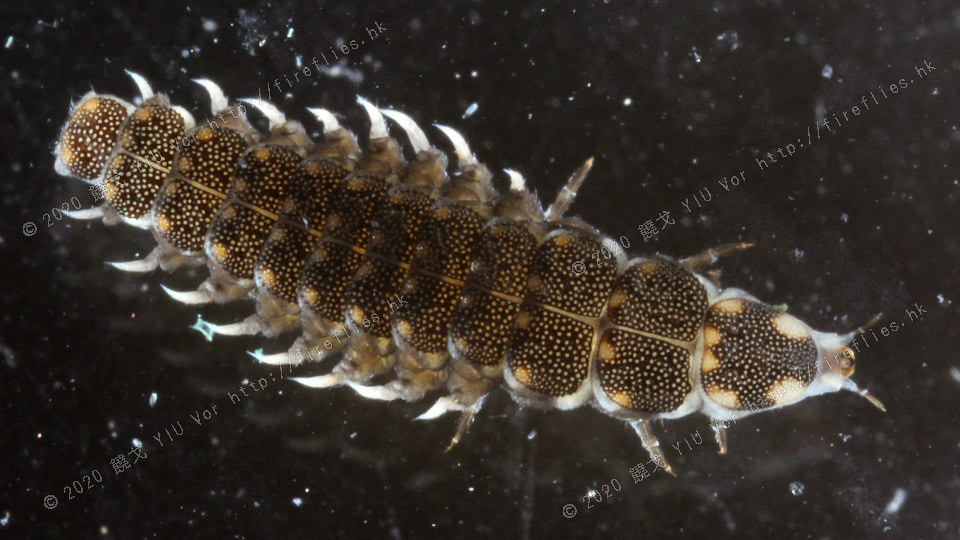 ---
成熟幼蟲
Mature larva

---
蛹及剛羽毛成蟲在泥穴內
Pupae and newly emerged adults in soil holes