Pyrocoelia analis
寬緣窗螢 Rimmed Window Firefly
---
形態特徵:雄螢
體長12-18毫米,背板前方窗口細小,鞘翅邊緣橙色,外緣色斑較寬,發光器橫型,位於第六、七腹板。雌螢體長28亳米,橙色,有一對短小鞘翅,第六、七腹板各有一對點狀發光器。幼蟲黑色,散佈不規則淺褐色小點,一對發光器位於第八腹節兩側,最後兩節背兩側板皆弧圓,有別於弦月窗螢幼蟲最後兩節背板兩側近平直。
---
分佈地點:
在鄉郊、農田、棄耕農田、漁塘濕地均常見,間中在市區亦有紀錄,但較少在林區出沒。
---
成蟲活躍月份:
3
月至
12
月
---
其他資料:
雄螢雖常見,但數量不多,通常只見一至數隻,在空中慢飛、發持續的光;晚間活動時間較長,至午夜仍見。雌螢極罕見
。
幼蟲取食蝸牛。
---
Morphological features
:
Male body length 12-18 mm, windows at the posterior part of the pronotum small; elytra with orange rim, outer margin broader; light organs transverse, located at 6th and 7th ventrite. Female body length 28 mm, orange in colour, bearing a pair of short and small elytra, light organs rounded, one pair at 6th abdominal ventrite, another pair at 7th. Larva black, irregularly scattered with small light brown spots, a pair of light organs located at 8th abdominal segment. Lateral sides of the last 2 tergites rounded, different from the more straight lateral sides of the last 2 tergites in Pyrocoelia lunata.

---
Distribution
:
Commonly seen in countryside, farmlands, abandoned farmlands, fish ponds, wetlands, occasionally even in the city, but less commonly seen in woodland areas.
---
Adult flight period
:
March to December

---
Other information
:
Male
is commonly seen, but not in large number, usually in one to a few individuals, flying slowly, showing continuous glow, activity duration long, could be seen till midnight. Female is very rarely recorded. Larva feeds on snails.
雄
Male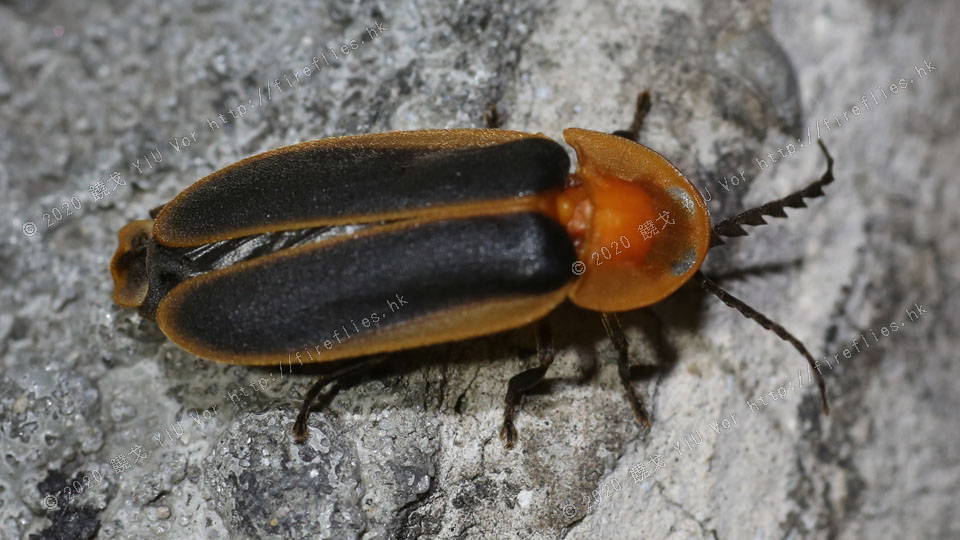 ---
雌
Female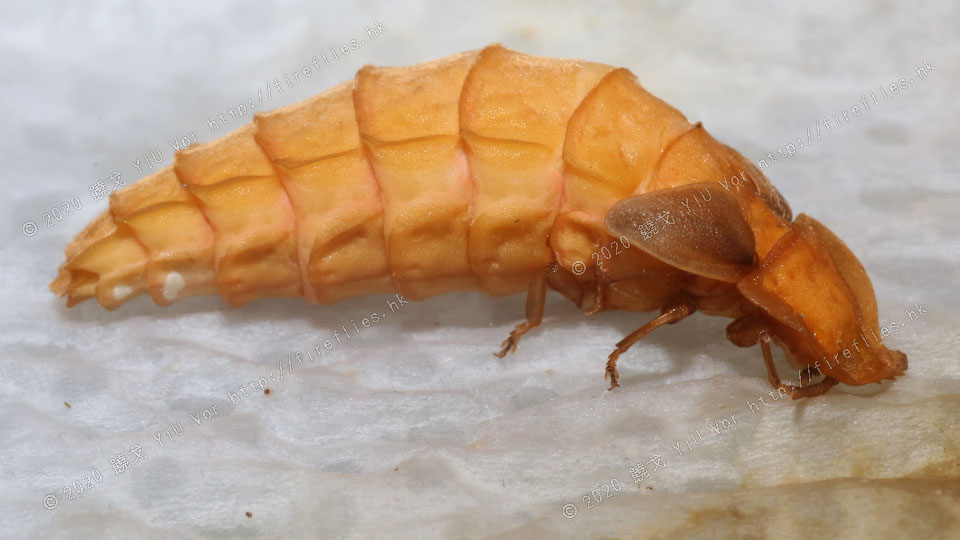 ---
幼蟲
Larva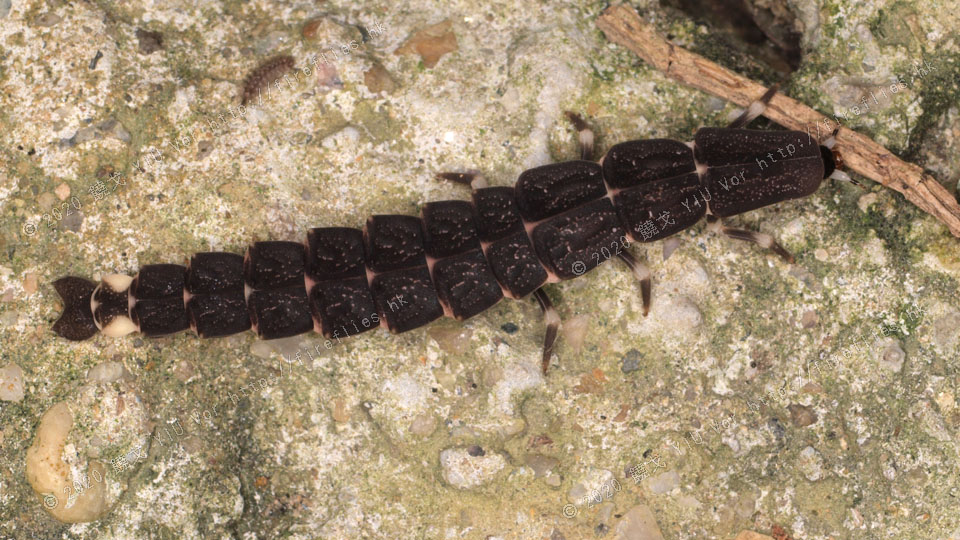 ---
雄
Male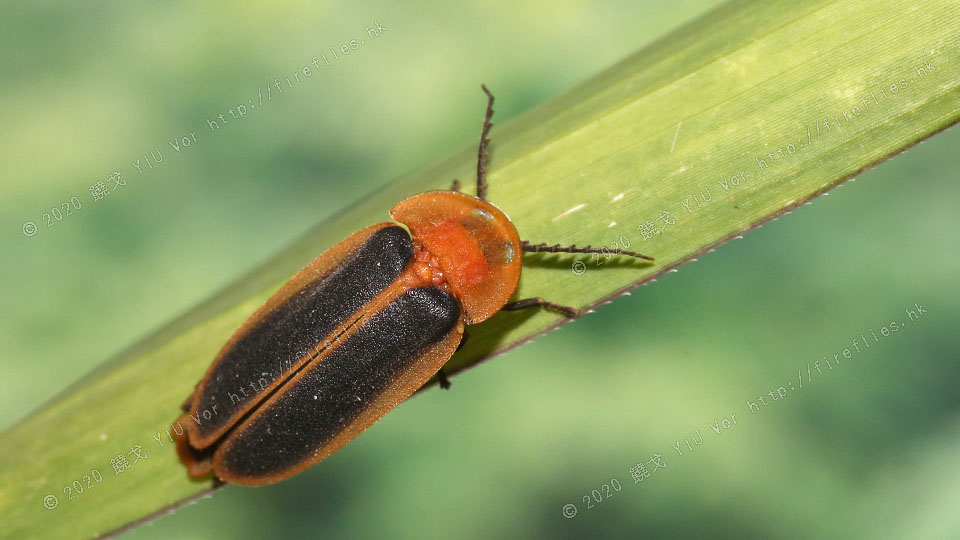 ---
雄
Male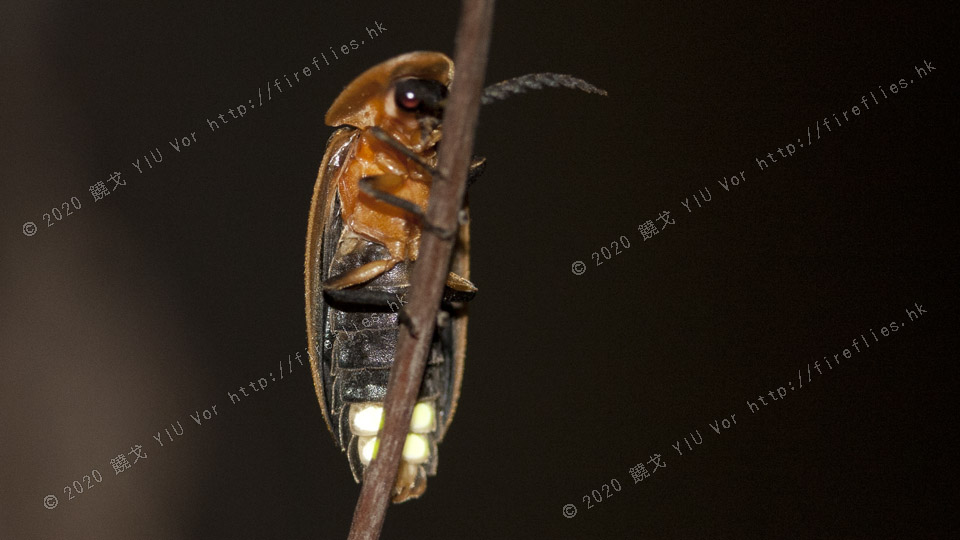 ---
雄
Male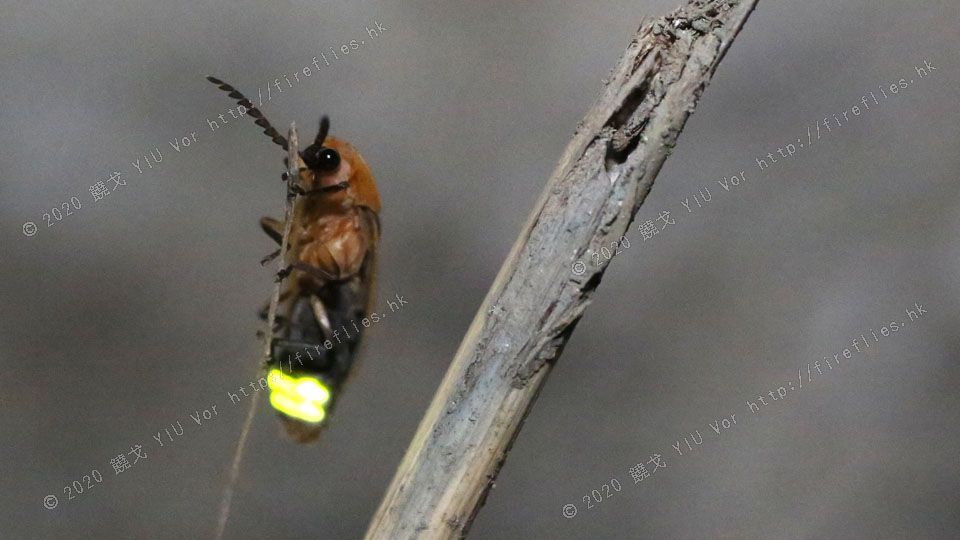 ---
螢光軌跡
Light track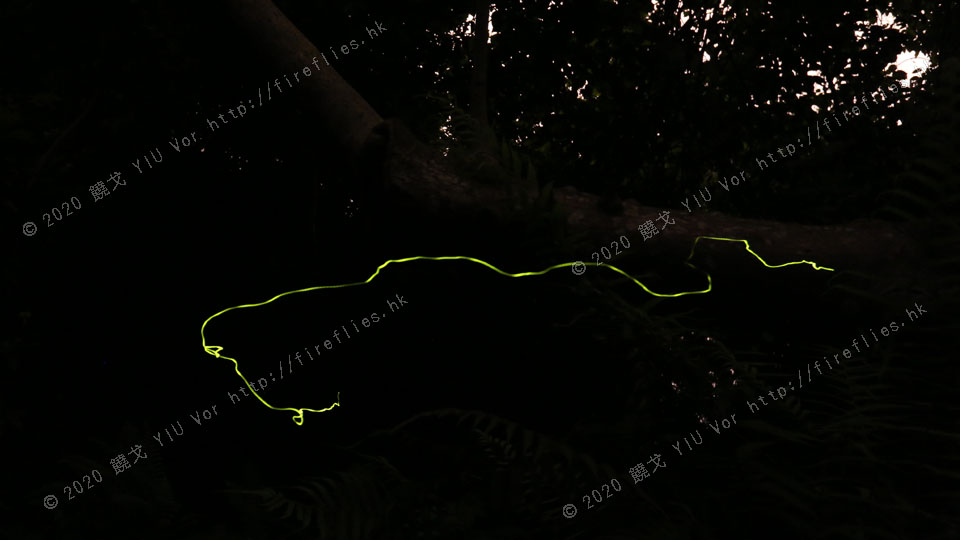 ---
雌
Female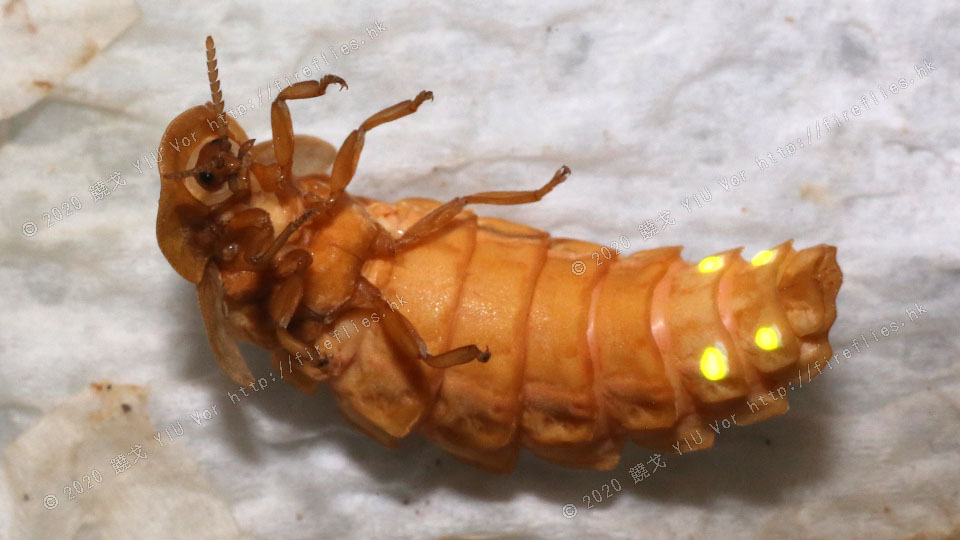 ---
雌
Female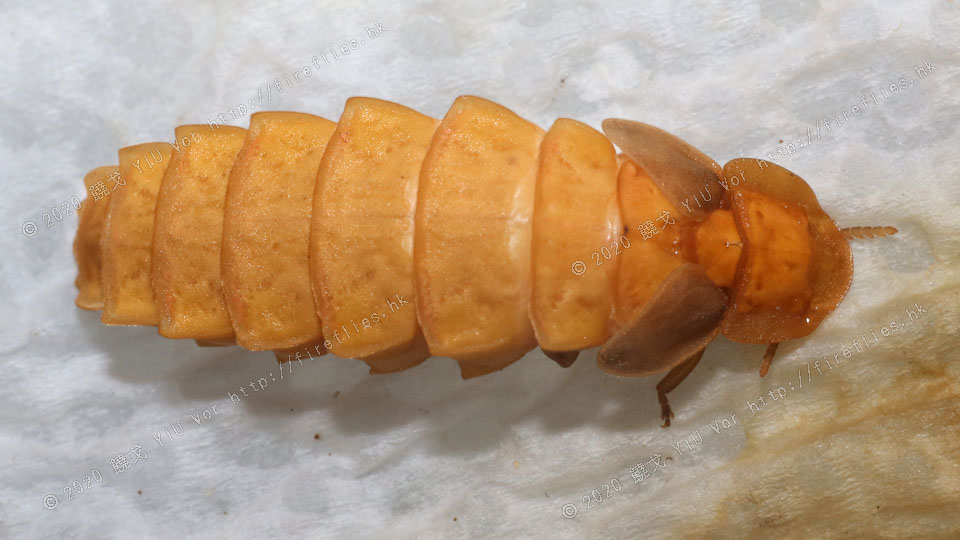 ---
雌蛹
Female pupa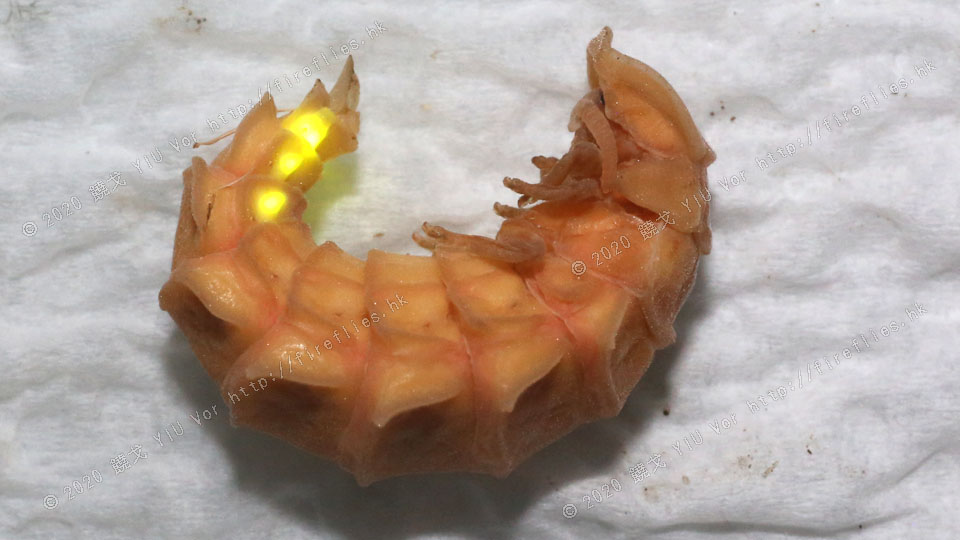 ---
成熟幼蟲
Mature larva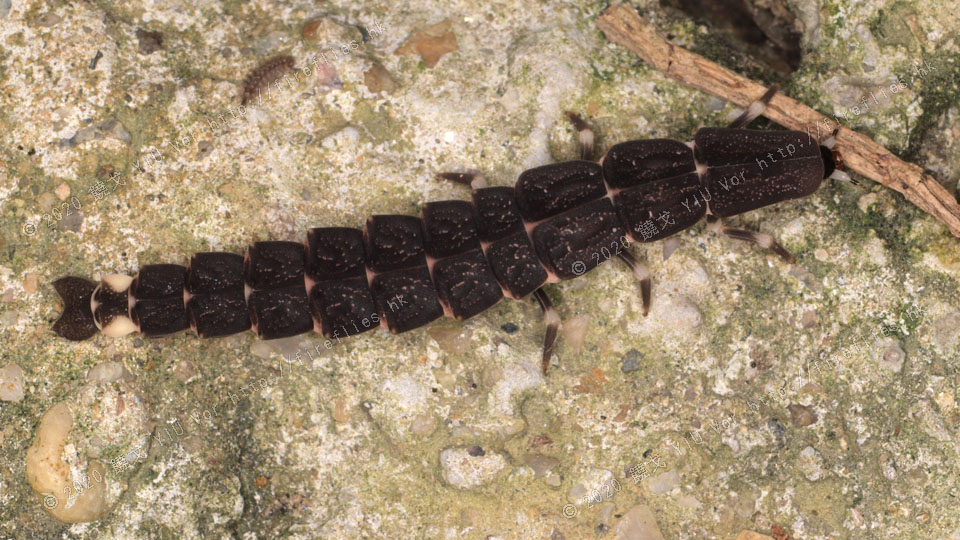 ---
年幼幼蟲
Young larva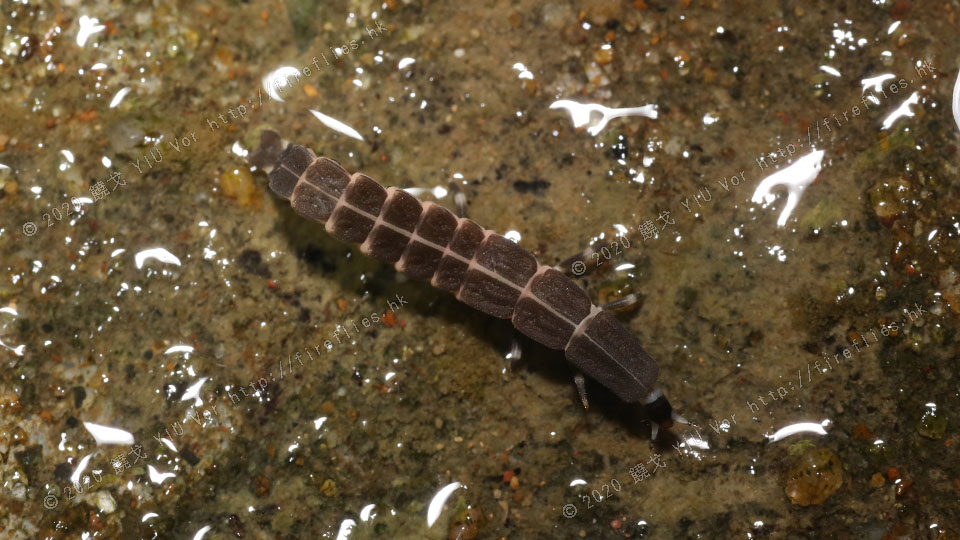 ---
幼蟲捕食蝸牛
Larva predating a snail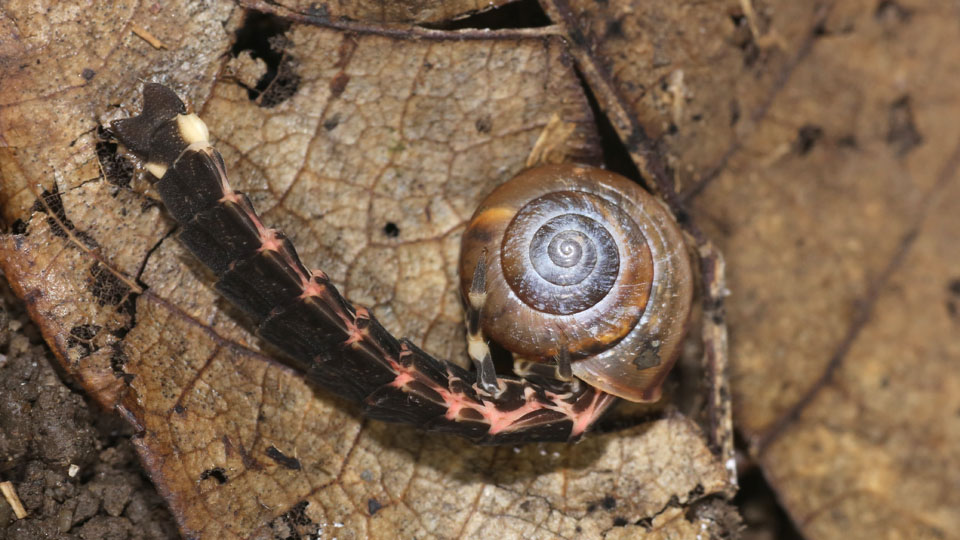 ---
幼蟲末節
Terminal segments of a larva