Pyrocoelia lunata
弦月窗螢 Lunate Window Firefly
---
形態特徵:雄螢
體長17-22毫米,本港體型最大的螢火蟲,背板前方窗口清晰、弦月形,發光器橫型,位於第六、七腹板。雌螢體長32-47亳米,黃褐色,有一對短小鞘翅,形狀不穩定,第六、七腹板各有一對點狀發光器。幼蟲黑色,最大紀錄體長65毫米,散佈不規則淺褐色小點,一對發光器位於第八腹節兩側,最後兩節背兩側接近平直,有別於寬緣窗螢幼蟲最後兩節背板兩側弧圓。
---
分佈地點:
多於10個低地及高地天然林區、以及高地草地均有紀錄。
---
成蟲活躍月份:
10
月下旬至
12
月上旬
---
其他資料:
雄螢在空中慢飛、發持續的光;晚間活動時間較遲開始,日落後一小時才陸續現身,至日落後四小時左右。雌螢極罕見
。
幼蟲取食蝸牛。香港特有種。
---
Morphological features
:
Male body length 17-22 mm, the largest firefly in Hong Kong; windows at the posterior part of the pronotum distinct, lunate; light organs transverse, located at 6th and 7th ventrite. Female body length 32-47 mm, bearing a pair of short and small elytra, shape varies, light organs rounded, one pair at 6th abdominal ventrite, another pair at 7th. Larva black, body length of the largest record 65mm; irregularly scattered with small light brown spots, a pair of light organs located at 8th abdominal segment. Lateral sides of the last 2 tergites almost straight, different from the rounded lateral sides of the last 2 tergites in Pyrocoelia analis.

---
Distribution
:More than 10 locations of lowland and highland natural woodlands as well as highland grasslands have records
.

---
Adult flight period
:
Late October to early December

---
Other information
:
Male
flies slowly, showing continuous glow, appears late, about 1 hour after sunset, keeps active for about 3 more hours. Female is very rarely recorded. Larva feeds on snails. Endemic to Hong Kong.
雄
Male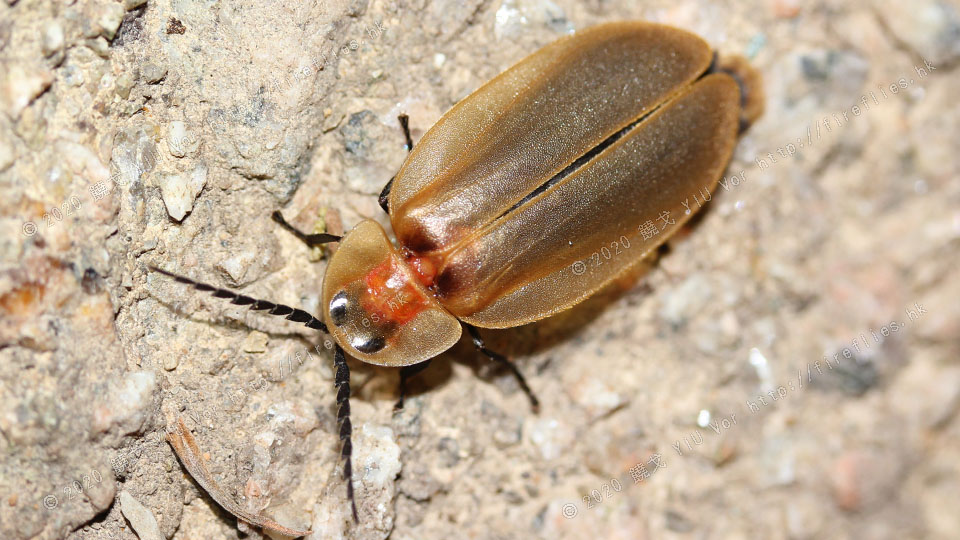 ---
雌
Female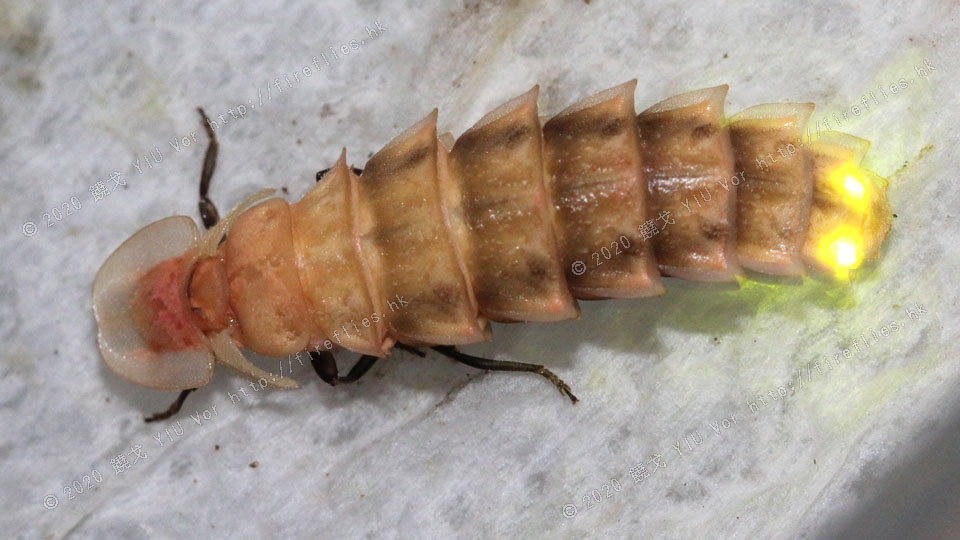 ---
幼蟲
Larva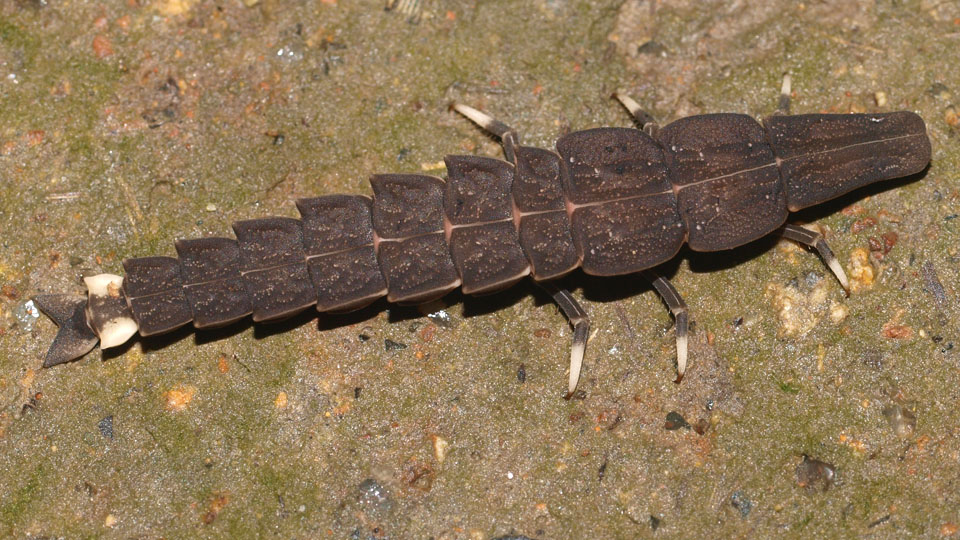 ---
雄
Male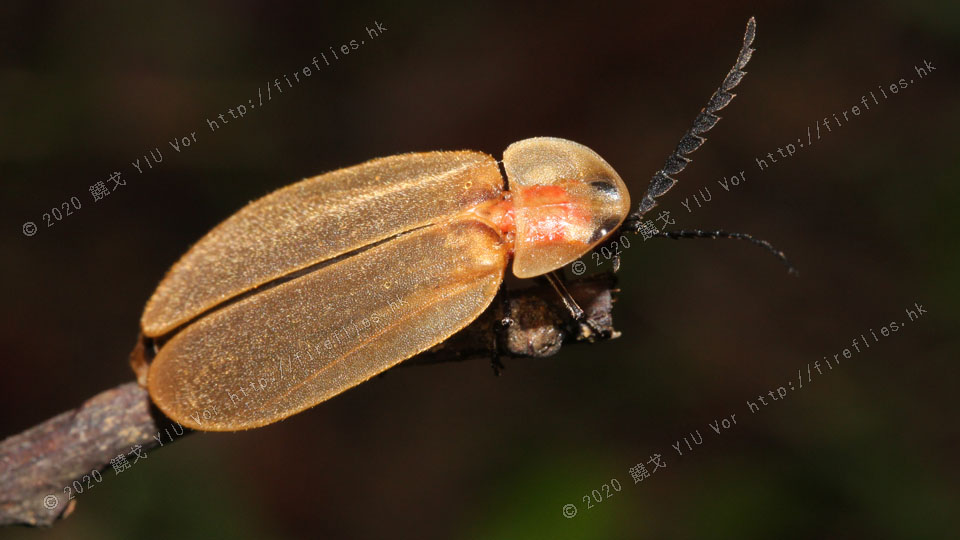 ---
雄
Male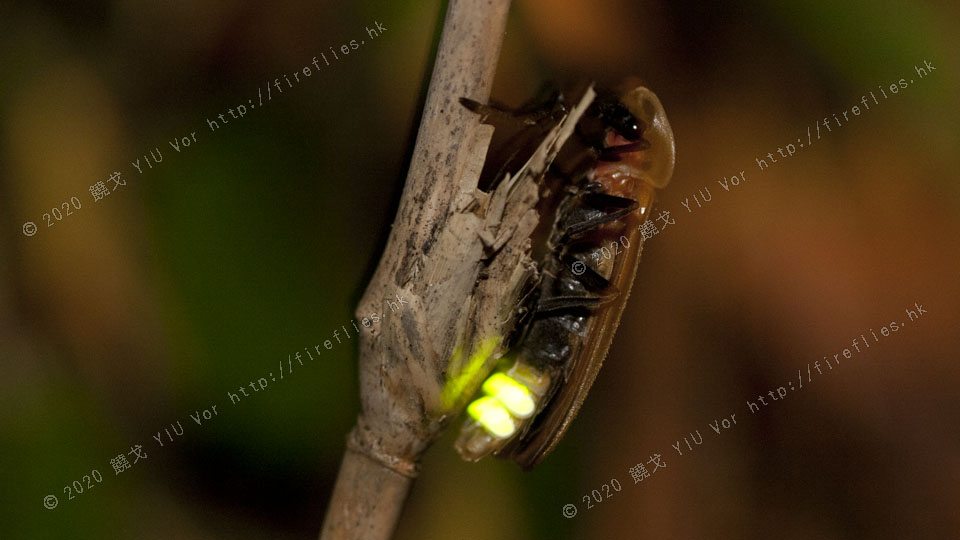 ---
雄
Male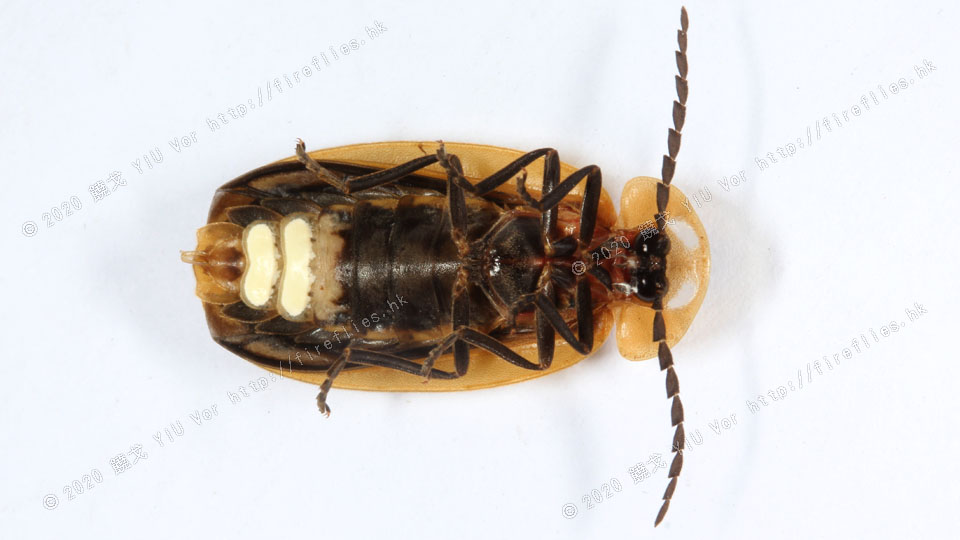 ---
雄
Male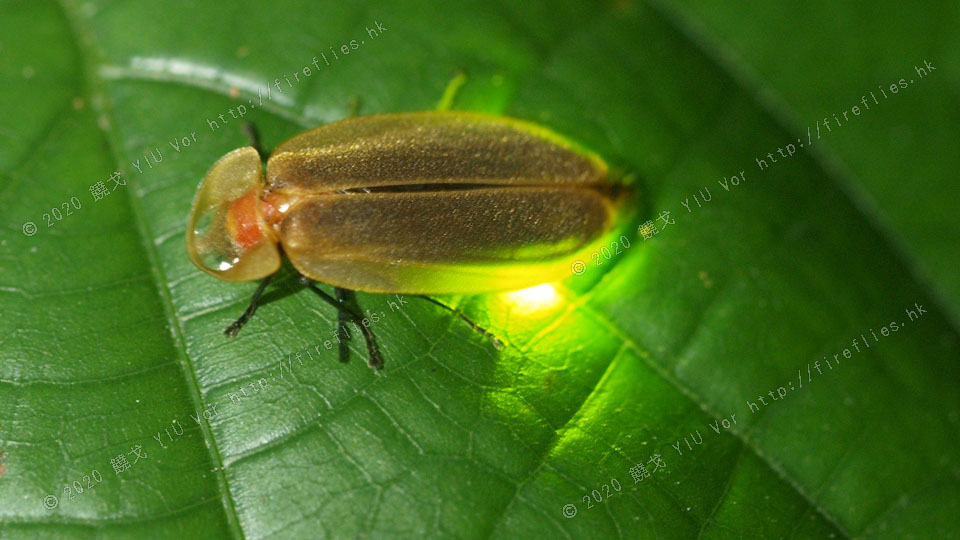 ---
雄蛹
Male pupa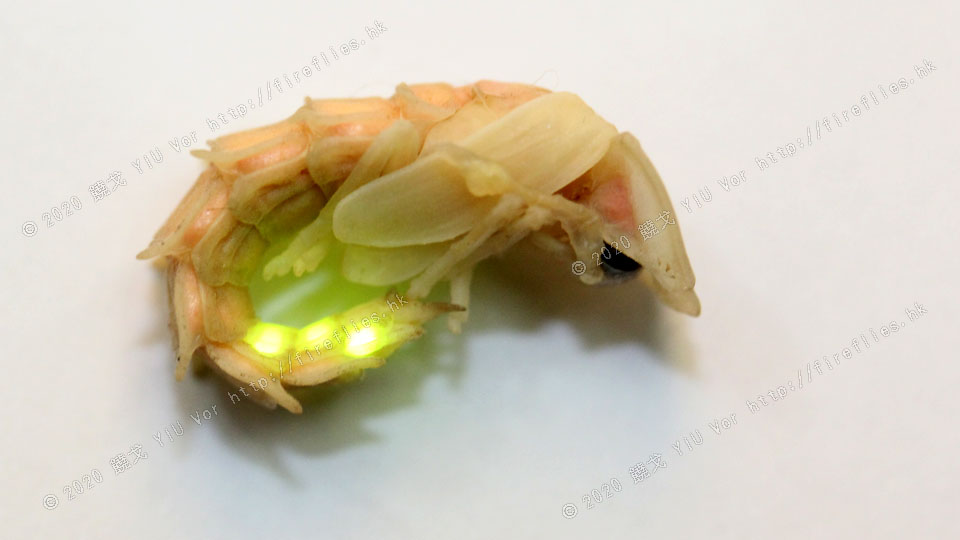 ---
雌 Female (右 right) 雄
Male
(左 left)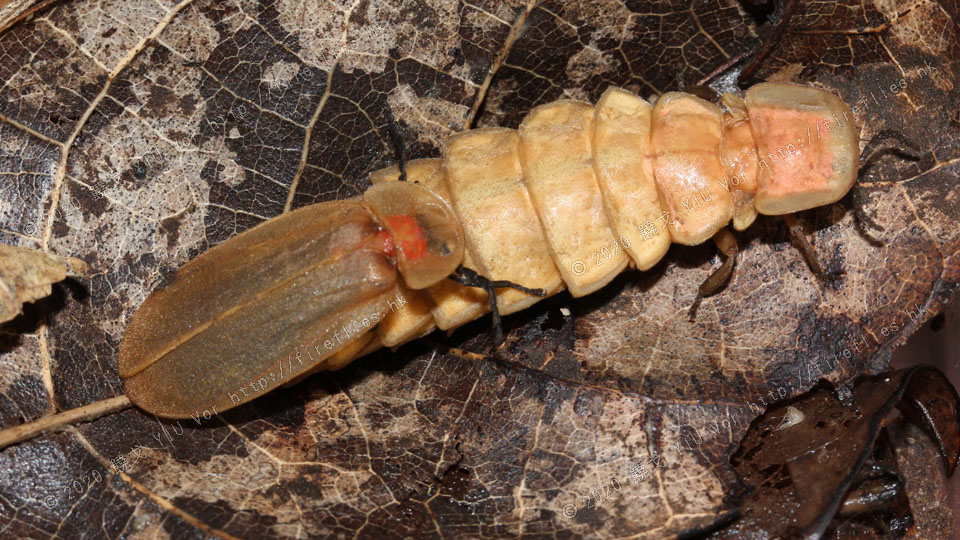 ---
雌
Female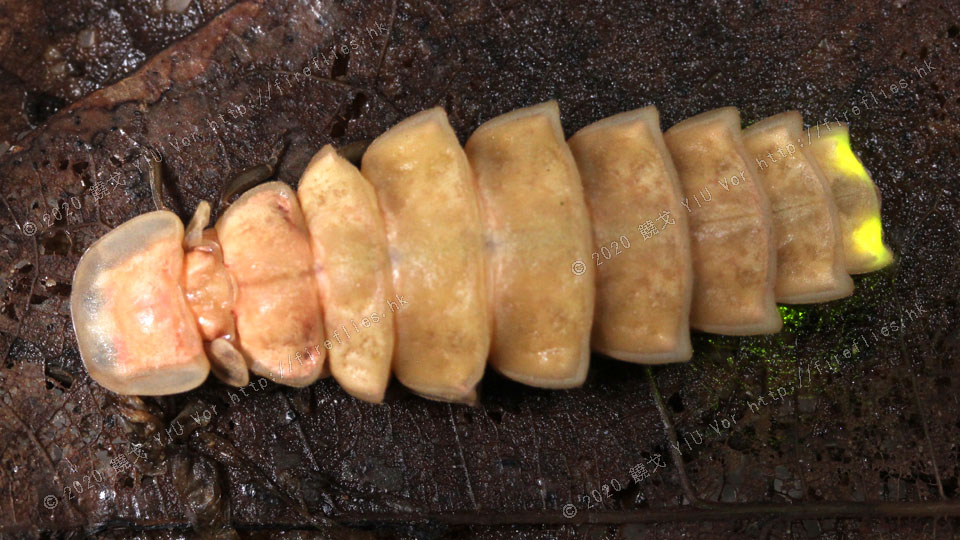 ---
雌
Female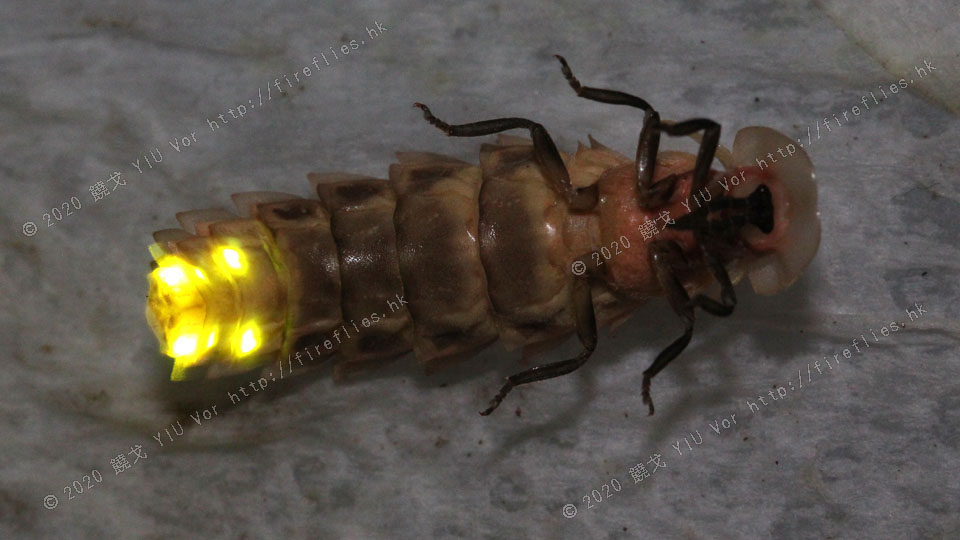 ---
雌
Female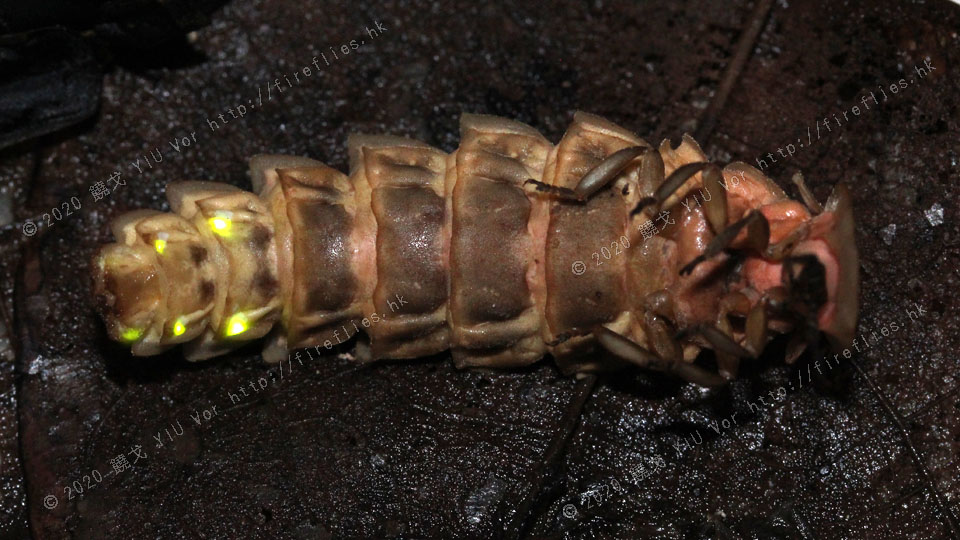 ---
雌蛹
Female pupa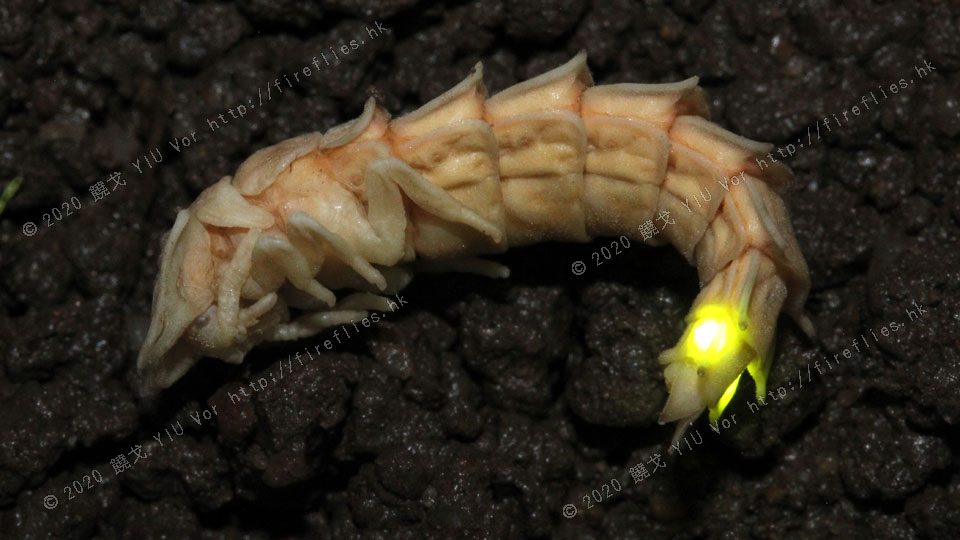 ---
幼蟲
Larva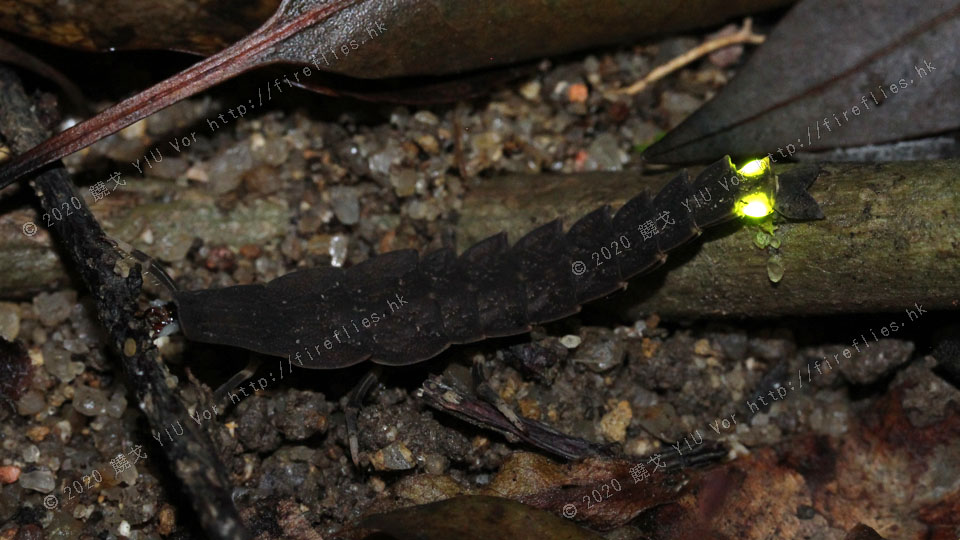 ---
幼蟲
Larva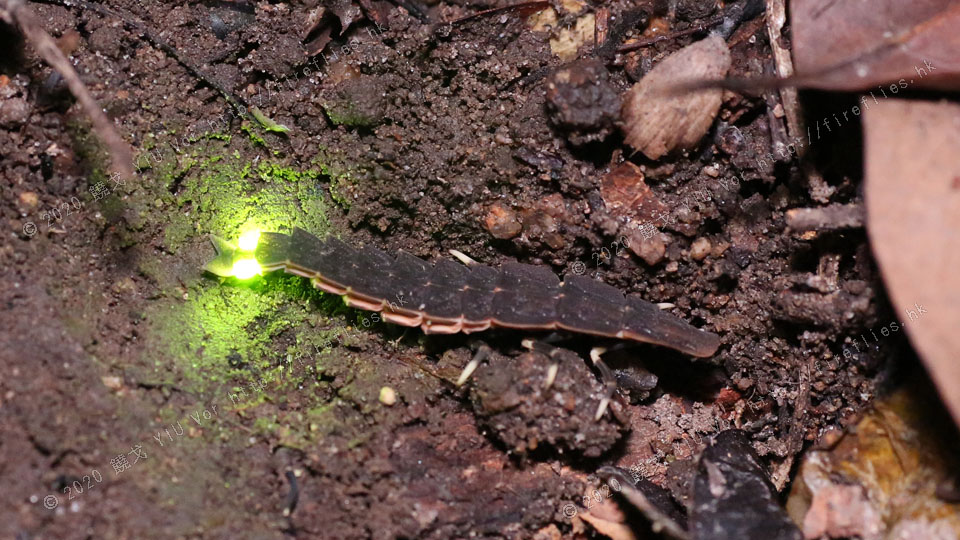 ---
幼蟲
Larva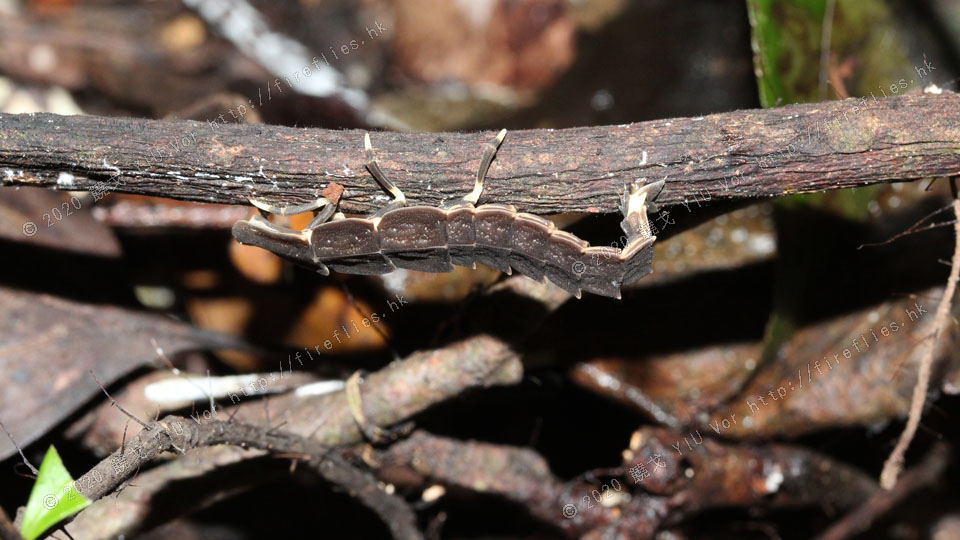 ---
幼蟲捕食蝸牛
Larva predating a snail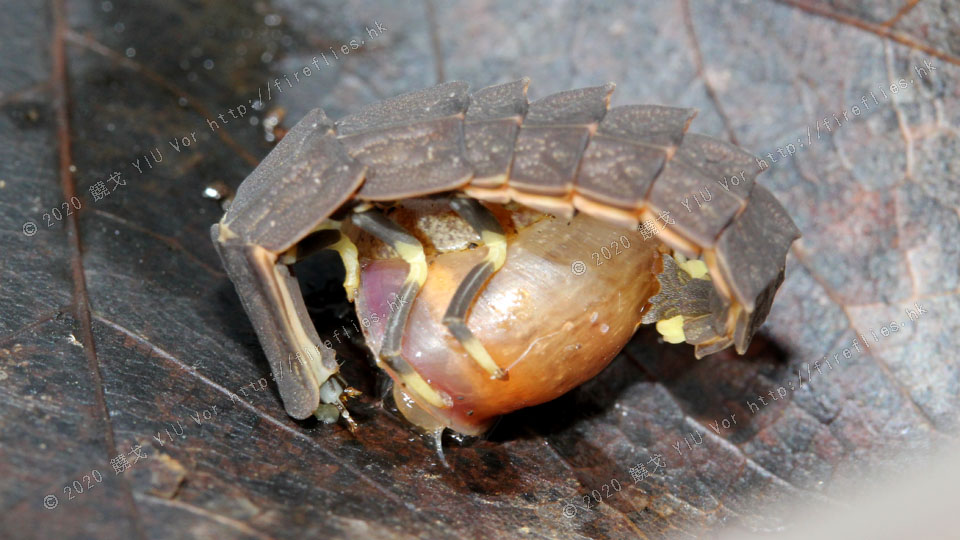 ---
幼蟲末節
Terminal segments of a larva