Rhagophthalmus motschulskyi
莫氏凹眼螢 Motschulsky's Starworm
---
形態特徵:
雄螢體長約
8.5 -9.5
毫米,前胸背板黑色、後角有淡黄色斑;鞘翅深褐色,基部及全部邊緣淡黃色,雄螢缺發光器。幼蟲背板深褐色、中缐和邊緣淡黃色,最後幾節背板色斑漸細、顏色漸淡。雌螢體長約
13-16
毫米,無翅,極似幼蟲,只是背板色斑較淡、較不明顯;晚間腹部端部向上反,露出巨大發光器,持續發光。
---
分佈地點:
大埔滘、錦田、天水圍、馬屎埔、林村、烏蛟騰、鑽石山、大棠、梅窩。
---
成蟲活躍月份:
3
月下旬至
6
月
---
其他資料:
雌螢產卵後會包圍卵團,並發出
33
點光。在有人聚居的鄉村或耕地、甚至市區公園的紀錄遠比在野外的多。幼蟲獵食馬陸。香港特有種。
---
Morphological features
:
Male body length 8.5 - 9.5 mm; pronotum black, posterior angles with light yellow marks. Elytra dark brown, basal region and entire margin light yellow. Male lacks light organ. Larva with each tergal plate bearing a large, transverse dark brown marking occupying most of the surface, leaving a thin pale median line and the margins. The marking becomes smaller and paler towards the posterior end.
Female body length 13-16 mm, wingless, larviform, very similar to larva except with paler and less prominent brown marking on the tergal plates. At night, posterior end of abdomen curls up to show its very large light organ, emitting continuous light.

---
Distribution
:
Tai Po Kau, Kam Tin, Tin Shui Wai, Ma Shi Po, Lam Tsuen, Wu Kau Tang, Diamond Hill, Tai Tong, Mui Wo

---
Adult flight period
:
Late March to June

---
Other information
:
After oviposition, female shows 33 light spots and surrounds the eggs. It is much more commonly encountered in villages and farmlands, even in urban parks, than in wild places. Larvae predate on millipedes.
Endemic to Hong Kong.
---
雄
Male
雄
Male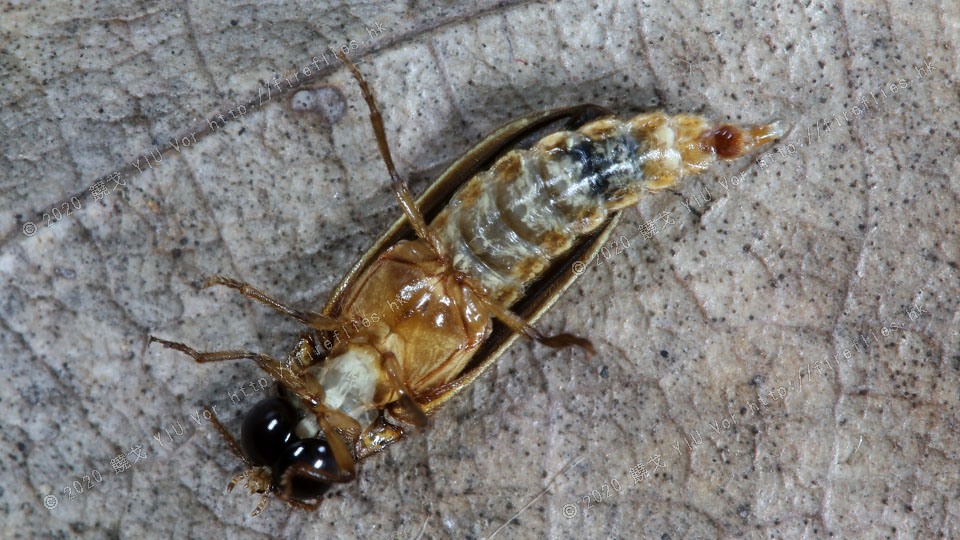 ---
雌 Female (下 below) 雄
Male
(上 above)
---
雌
Female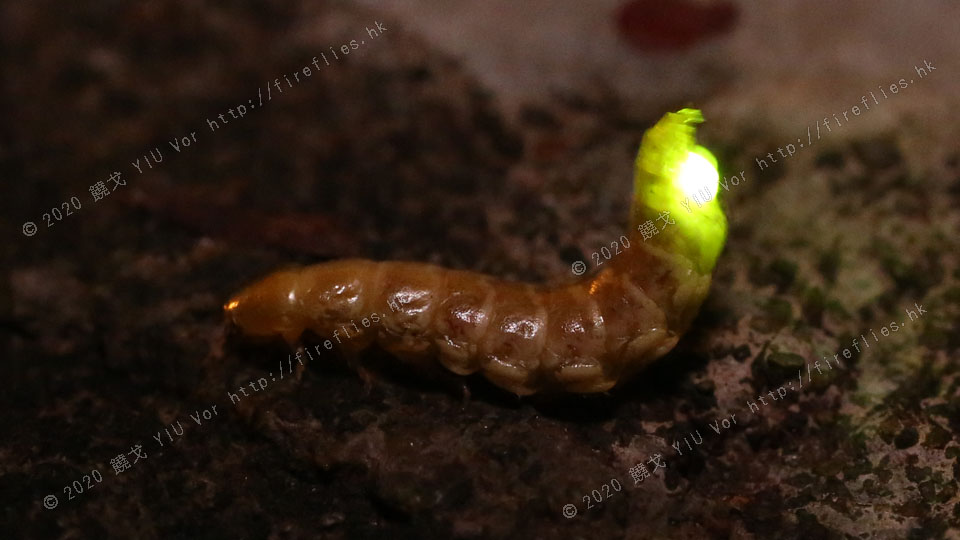 ---
雌
Female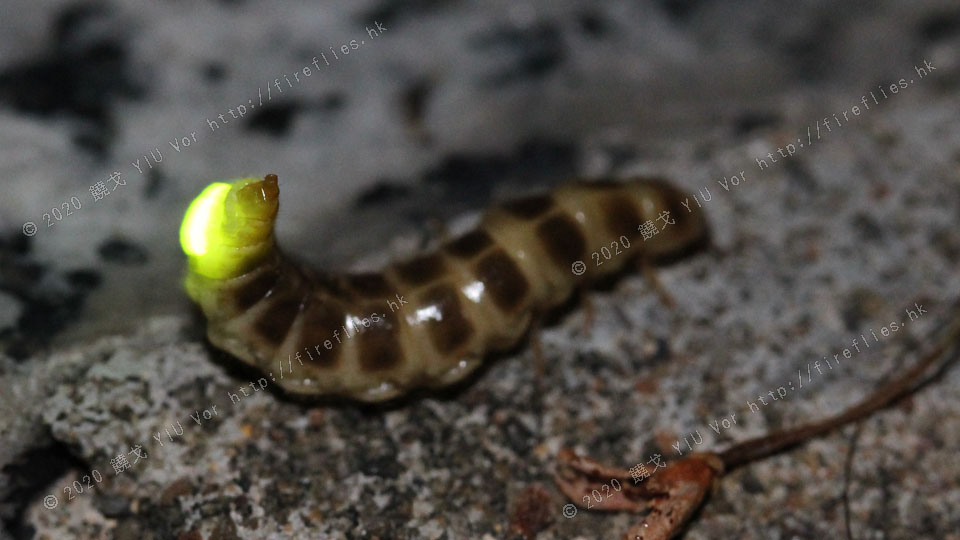 ---
雌
Female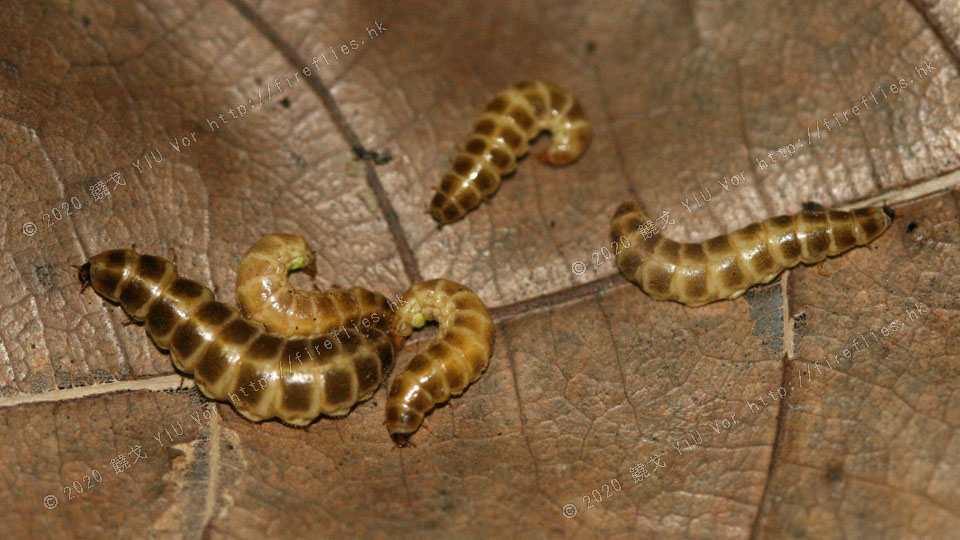 ---
雌
Female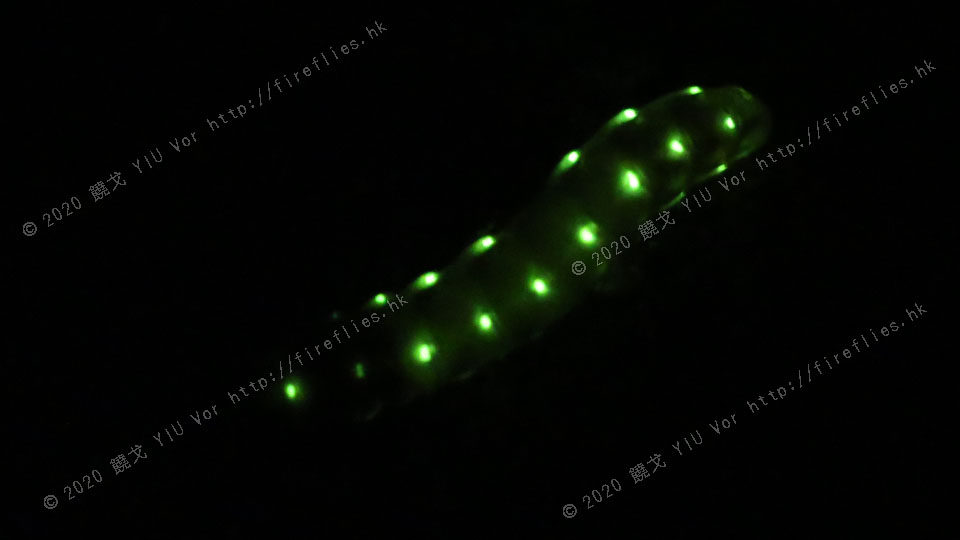 ---
幼蟲獵食馬陸
Larvae predating on a millipede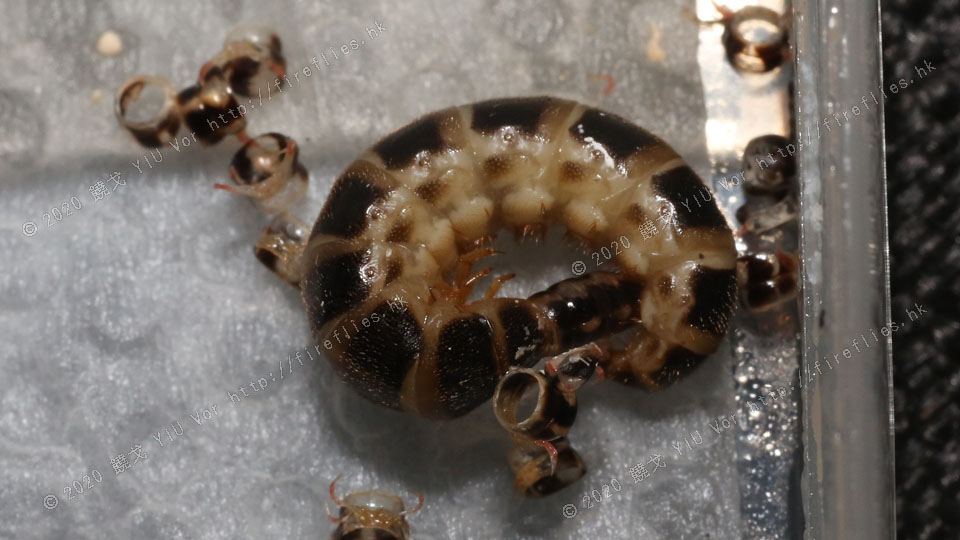 ---
幼蟲 Larva